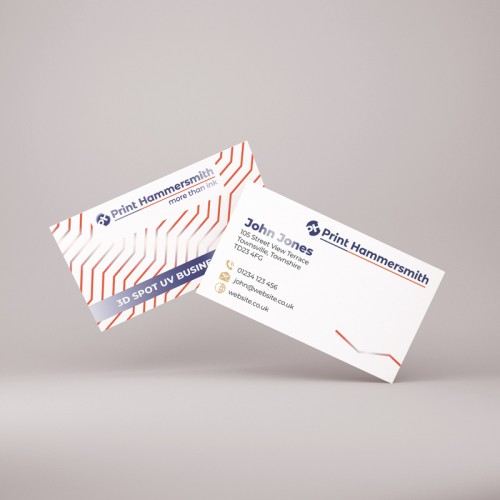 Laminated and Spot UV BC
For a sophisticated finish, try our 450gsm Matt Laminated cards. These cards are built to withstand the everyday wear-and-tear of life on the road. Its smooth finish brings out the lighter colours in the graphic, and allows for a softer image.
Add a touch of class using Spot UV coating on your 450gsm Matt Laminated cards for a targeted glossy finish. It creates a unique tactile and visual effect, which clearly sets it apart from all other cards on the market.
For multi-name cards, please provide 1 PDF file which contains all designs. The running order should be card 1 front, card 1 back, card 2 front, card 2 back etc. We will require all designs, even if they are duplications.
For multiple sets orders, please also provide 1 PDF file which contains all designs. The running order should be card 1 front, card 1 back, card 2 front, card 2 back etc.
For Spot UV business cards, please supply your artwork as a 4-page PDF.

Page 1 is the front of the artwork, page 2 is the back of the artwork, page 3 is the Spot UV artwork for the front and page 4 is the Spot UV artwork for the back.
Finished size is 85 x 55mm (91 x 61mm with 3mm bleed)
Business cards with rounded corners have a 6mm radius on all 4 corners.
Include 3mm bleed on all sides
Supply as a CMYK PDF
Outline or embed fonts
300dpi resolution
Once you have placed your order you can upload your print ready artwork. Please allow 3mm bleed on all sides, and supply as a CMYK PDF with all fonts outlined or embedded and with a resolution of 300dpi. Download our templates below to assist with setting up your artwork.
Supplying your files
When supplying files for artwork containing Spot UV, you must supply artwork for the spot UV itself as well as your artwork. The spot UV artwork should consist of solid black shapes (100% K only, no cyan, magenta or yellow) in the exact position on the page where the spot UV is required, ideally in vector as opposed to bitmap formula. The Spot UV artwork should be on a separate page but have the same dimensions and crop marks in the same position as the design artwork.
Please note, Spot UV is applied using a process similar to screen printing, and has registration tolerances of approximately ±0.5 mm and is therefore not recommended for small text or thin lines.
Spot UV Business Cards
Please supply as 1 print-ready PDF file, containing 4 pages, as follows:
Page 1: Artwork Front
Page 2: Artwork Back
Page 3: Spot UV Front
Page 4: Spot UV Back
From £

38.10
Buying Options
Sides Printed
Sets
Quantity
Turnaround Times
Total
£

+VAT

£

More Prices
Click a price below to add an item, based on your chosen printing options above and relevent service, to the basket.
Order within the time below